This is my 1975 Porsche 914. It's been customized quite a bit. It has what I think is an 80's style to it. Particularly the slantnose which really sets it apart from the original 914 body lines (which is quite boxy but also distinctly very cool in its own right).
It has massive rear meats in the back (345s if I remember correctly); again an homage to the 80's 930 Turbo look. I think the only other car that had wheels as wide as this was the Lamborghini Countach. And oh yeah, the rims are Gotti's; another 80's feature.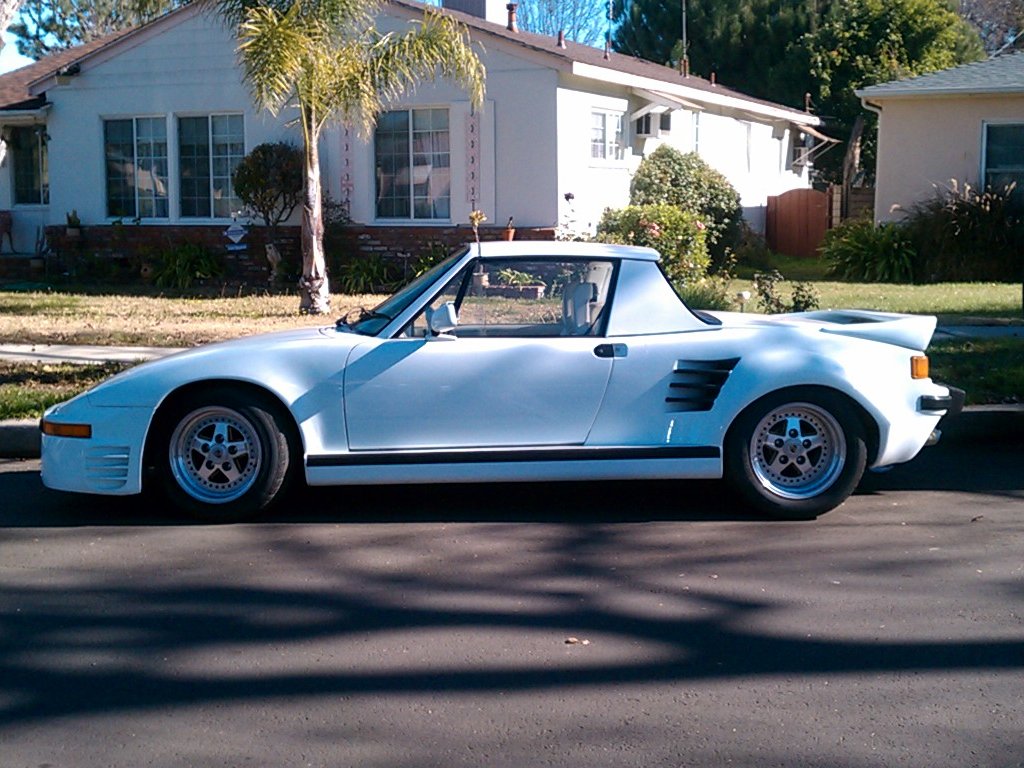 Lucky number 7
I've owned this car for 7 years. I can't believe it, mostly because I haven't done anything with it in all that time. I've probably put less than 1000 miles on it. That's really too bad because it is such a fun car to drive. It handles like a go-kart, with no roll and its very responsive steering; at least from what I can tell. I never put enough time into her to really learn and master what she can do.
But I say lucky number 7 because (now in the year 2014) I find that I must find her a new home. So she's either coming to the new house we're moving into or (hopefully) she'll have a new owner that has more time and attention to spend on this really fun automobile.
Here is what she looks like now (or at least a month ago) after being given a quick wash (note: the picture below is a carousel, be sure to click on edges to see more pics):
Bonus goodies (aka the Porsche purge)
Along the way I acquired various Porsche parts. Some from previous projects, while others were acquired for this car. If I can find a new owner and a good home for her I would want to also provide the following as part of a complete package deal.
Transaxle (can't remember if it is side or tail shift since it is in storage)
1.8 liter (I think) long block
Tin, fan housing, distributor, etc for above long block
Exhaust system
Starter
Two (2) fuel injection systems. Complete with computer, harness, sensors, intake, injectors, etc.
I think I have a front chin spoiler from a past Porsche 914 project as well. Maybe a steering wheel assembly or two. Again, stuff in storage that I'd like to clear out as part of this Porsche purge.
If you're interested in purchasing the car and goodies feel free to email me (there is a link at bottom of page). I'm looking for a good home first, and then a fair and reasonable price for both parties afterwards. In other words I'm hoping to sell to someone who will drive this car and have fun with her. Someone who will not be shy working on her and restoring, modifying, customizing as much or as little as he/she wants to.